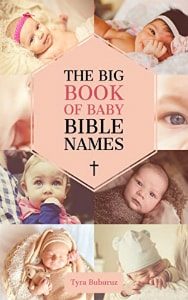 Naming your baby can be one of the most enjoyable parts of your pregnancy! Use this book to find just the right one. Also includes name meanings.
Including over 2,500 baby Bible names from A to Z, this updated and expanded book draws from Hitchcock's Bible Names Dictionary as taken from from Hitchcock's New and Complete Analysis of the Holy Bible written by Roswell D. Hitchcock in 1869.
Along with each name and its meaning, this book also includes the first scripture in which the name appears, how many times the name appears in the Bible, a citation of each time the name is referenced in the Bible, as well as a listing of Bible book abbreviations.
Available now on Amazon.