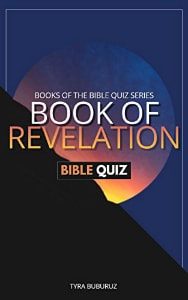 Containing over 400 Bible study questions and answers, this book encompasses the entire book of Revelation, in question and Scripture answer format, all in chronological order.
This prophetic book foretells the second coming of Jesus, delivers a stern warning to the seven churches in Asia, details the events necessary to wrap up the end of the age, and the end of the world as we know it, provides an account of Satan's displacement from heaven, reveals the forthcoming horrendous plagues slated for non–believers, details the deadly deceptions of Satan, the beast, and the false prophet, outlines the destruction of Babylon, and the war of Armageddon, and provides a detailed description of the new Jerusalem.
Believed to have been written by the apostle John, one of the original twelve disciples of Jesus, while he was imprisoned for his Christian beliefs on the Island of Patmos around A.D. 85 and 95, this book offers a solemn warning for all people who wish to ensure a spot in God's Kingdom upon the return of Jesus Christ.
Available now on Amazon.